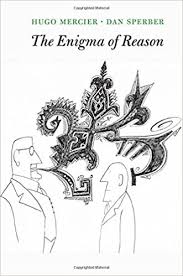 Finished The Enigma of Reason. The basic thesis that reasoning is a way to convince people after you've already come to a conclusion, that is, rationalization, was already one I shared. That makes sense since one of the coauthors, Dan Sperber, has been influential in the "naturalistic" school of anthropology. If you've read books like In Gods We Trust The Enigma of Reason goes fast. But it is important to note that the cognitive anthropology perspective is useful in things besides religion. I'm thinking in particular of politics.
I haven't been blogging much since I was abroad on a business trip. Specifically to the Persian Gulf. I'll say more later, though I am going to be vague on geography since I'd rather not mix these two streams of my life (also, to be clear, this is not related to my day job).
One Family, Many Revolutions: From Black Panthers, to Silicon Valley, to Trump. I had known of this connection before, between Ben Horowitz, the Silicon Valley VC guy, and David Horowitz, the right-wing provocateur. The elder Horowitz's contention that one needs to play dirty to get anywhere is a position that I believe has more support today than it did ten years ago. The culture has come to him.
Don't Believe in God? Maybe You'll Try U.F.O.s. No surprise.
43 Senators Want to Make It a Federal Crime to Boycott Israeli Settlements. Here are the sponsors. I've never felt so sympathetic toward BDS….
My piece in India Today on South Asian genetics is hitting the printing press this week.