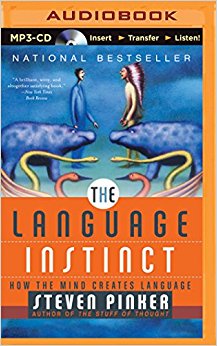 Steven Pinker is one of my favorite public intellectuals. The Language Instinct is probably my favorite book from Pinker.
Last week I started seeing scientists who I respect(ed) starting to tweet that Steven Pinker, a moderately liberal academic of Jewish background, is a fan of Neo-Nazis. This stuff started to litter my timeline since I follow many scientists on Twitter. To find all the links and commentary, start with Jerry Coyne, who is a friend of Steve's. All I have to say is that a substantial portion of the science Twittersphere is OK with bracketing Steven Pinker with Neo-Nazis. True fact.
I read Consciousness and the Brain: Deciphering How the Brain Codes Our Thoughts two years ago. I don't remember much about that book though.
CBC under fire for documentary that says first humans to colonize New World sailed from Europe. There is less evidence for the Solutrean Hypothesis now than there was 20 years ago (in a relative sense). We also now know from ancient DNA that almost no Solutrean ancestry is present in modern Europeans.
If you don't believe me, read this paper, The genetic history of Ice Age Europe.
At least most of my Twitter followers don't seem to be anti-Pinker.
On Steven Pinker

— Razib Khan (@razibkhan) January 11, 2018
Having a hard time saying anything about Anhui of note. Perhaps that says something?
Genomweb story that mentions both my day-job and side-hustle.