History of Japan: Revised Edition. As I said, a pretty good and short history. Recommended.
CRISPR/Cas9 gene editing scissors are less accurate than we thought, but there are fixes. I know the focus is on human genetics. And rightly so. But this isn't going to be as much of an issue in animal and plant breeding.
Patterns of speciation and parallel genetic evolution under adaptation from standing variation.
Genome-wide analysis in UK Biobank identifies over 100 QTLs associated with muscle mass variability in middle age individuals.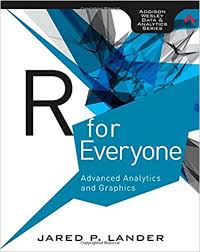 Amazon told me R for Everyone: Advanced Analytics and Graphics was on sale. Great. But I already own it. That being said, I can tell you it's a pretty good book.
Genome doubling shapes the evolution and prognosis of advanced cancers.
Against Moral Equivalence. "The talking heads trafficking in examples of U.S. interference neglect to mention that the goal of American policy has always been to prop up anti-totalitarian, pro-market leaders." I dislike the tendency of American conservatism to conflate anti-authoritarian and pro-market. The two are distinct (I'm pro-market for what it's worth, but capitalism is amoral, even though it leads to greater human well-being).
Large randomized controlled trial finds state pre-k program has adverse effects on academic achievement.
Archaeobotanical evidence reveals the origins of bread 14,400 years ago in northeastern Jordan.
Confronting Implicit Bias in the New York Police Department. Implicit bias stuff is sketchy science. But people want solutions for social problems.
How Social Science Might Be Misunderstanding Conservatives. I got introduced to the "authoritarian personality" in college. I didn't think much about it, but over the years it seemed pretty clearly a bit rigged. But whatever. Then I read The Dialectical Imagination: A History of the Frankfurt School and the Institute of Social Research, 1923-1950. That's where it comes from. Enough said, right?
Tides of History is a great podcast. Now Patrick Wyman is talking about the "Hundred Years War."
Should I post "open threads" anymore? It seems that the number of comments keeps dropping. Really "everything" is moving to Twitter nowadays though Twitter is a wasteland.
A "carvaka" perspective historicity of myth and religion. A long post on Brown Pundits by me. Was asked once why I post there and not here, and why here and not there. 45% of the readers of that weblog are from Indian IPs. 5% here. About twice as much traffic here, but much more engagement there (bounce rate 70% vs. 40%).