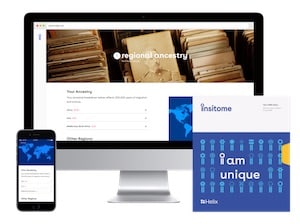 Happy Hanukkah! My main qualm with wishing you a happy holiday is that I'm a thorough assimilator and I don't want to be disemboweled.
For the context, listen to the Stuff You Missed in History Class episode on the Maccabean Revolt. As a Jewish friend of mine once observed, the Maccabees were kind of the Al-Qaeda of their day (today she would have said ISIS).
With that out of the way, I want to give you a heads up that Helix has a sale going until December 26 at 2:59am EST where the $80 kit cost for purchase of any app is waived if you haven't purchased at app before. Just enter the promotion code HOLIDAY at checkout.
That means presales of Insitome's Regional Ancestry is no more than $19.99, while Neanderthal is $29.99 and Metabolism is $39.99 (this applies to all of Helix's products except embodyDNA by Lose It! and Geno 2.0 by National Geographic).
Why does it matter? Again, Helix banks a high quality exome+ (the + is for non-exonic positions) when you purchase any of their apps. If you want subsequent apps you don't have to sent another kit in, you just buy the app and get the results. Also, I do have to say that from what I've seen and heard Helix's laboratory facilities are top-notch in terms of getting results turned around rapidly.