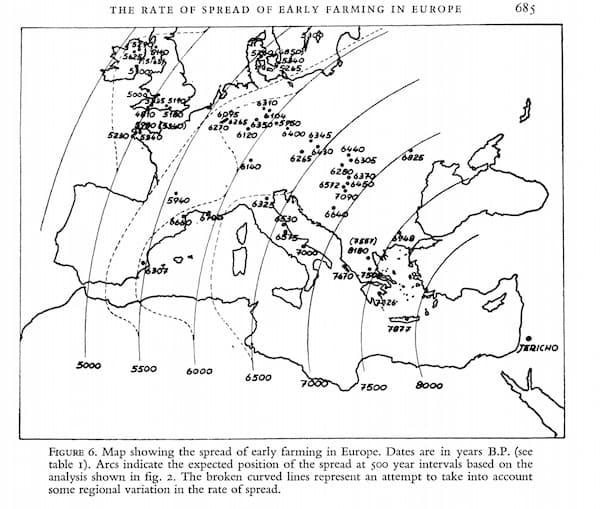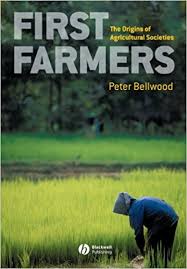 In the 1970s A. J. Ammerman and L. L. Cavalli-Sforza argued for the validity of a model of Neolithic expansion of farmers into Europe predicated on a "demic diffusion" dynamic. This is in contrast to the idea that farming spread through the diffusion of ideas, not people. The formal theory is inspired by the Fisher wave model, but empirically just imagine two populations with very different carrying capacities due to their mode of production, farmers, and hunter-gatherers. In a Malthusian framework, the farmer carrying capacity in a given area of land might be ~10× greater than that of hunter-gatherers. Starting at the same initial population, the farmers will simply breed the hunter-gatherers out of existence.
As the farmers reaching their local carrying capacity, migration outward will occur in a continuous and diffusive process. For all practical purposes, the farmers will perceive the landscape occupied by hunter-gatherers as "empty." This is due to the fact that hunter-gatherers often engage in extensive, not intensive, exploitation of resources. In contrast, even slash and burn agriculturalists leave a much bigger ecological footprint. They swarm over the land.
The beauty of the demic diffusion process is that that it's analytically elegant and tractable. Families or villages engaged in primary production to "fill up" a landscape through simple cultural practices which manifest on the individual scale that allow for aggregate endogenous growth. And this model underlies much of the work by Peter Bellwood in First Farmers and Colin Renfrew's theories about the spread of Indo-European langauges. You can call it the Walder Frey theory of history.
I didn't really think deeply about this theory because I didn't have much empirical knowledge until I read Lawrence Keeley's War Before Civilization. In this book, Keeley observes that the archaeological record suggests that there was violent conflict between the first farmers and hunter-gatherers in northwestern Europe, near the North Sea. He reports that there seems to have been a broad front of conflict, presumably a prehistoric "no man's land." Not only that, but Keeley claims that the spread of agriculture stopped for a period. The barrier between hunter-gatherer occupation and farmer territory was not permeable. Not diffusion.
As a stylized fact, the demic diffusion framework treats all farmers as interchangeable and all hunter-gatherers as interchangeable. On the face of it, we know that this is wrong. But the assumption is that to a first approximation this axiom will allow us to capture the main features of the dynamics in question. This may be a false assumption. The fact is we know that some hunting and gathering populations can engage in intensive resource extraction and remain sedentary.