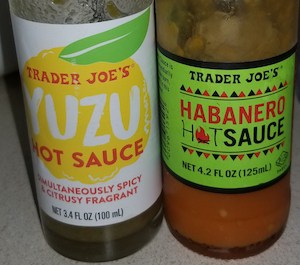 Normally I get hot sauces from specialty shops. But now and then I buy brands at supermarkets. So I saw two hot sauces at Trader Joe's, yuzu sauce, and a habanero sauce.
I don't buy habanero sauces that have carrot juice, and this one did not. In general, I'd say it's a pretty generic product, not bad, not good. The simplicity of the ingredient list seems to have resulted in something pretty bland, though spicy enough if you are a weakling.
The yuzu sauce is something different. In some ways it reminds me of a Louisana hot sauce, there's a tang to it. But the difference is a citrus flavor that outlasts and pervades the very mild spice. Its refined delicacy is something that I've put good use to: I have been using the yuzu sauce as salad dressing!
Unless you are hard up for a kick, I'd pass on Trader Joe's habanero sauce. But the yuzu is worth it.