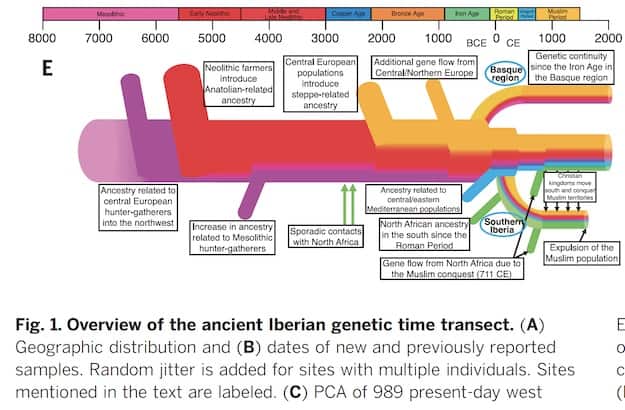 The figure above is from The genomic history of the Iberian Peninsula over the past 8000 years. If you had seen something like this five years ago, you'd be gobsmacked. But today this is not atypical, especially in light of the fact that Spain seems to harbor many good sites in relation to the preservation of ancient DNA. In the figure above you see an excellent representation of the different streams of ancestry and settlement within Spain over the last 8,000 years. You can conclude from it, for example, that only a small proportion of the ancestry of modern Spaniards derives from people who were residents of the peninsula during the Pleistocene. Similarly, you can also conclude that a minority, though non-trivial, proportion of the ancestry of modern-day Spaniards derives from people who arrived during Classical Antiquity and the Moorish period.
And, confirming earlier work, the Basques seem to be relatively untouched by these later gene flow events. To some extent, we all knew that, as the Basques were famously exempt from limpieza de sangre, the blood purity laws of medieval Spain. But importantly, the Basques have a substantial amount of ancestry from peoples whose heritage goes back to Central Europe, and to a great extent, the forest-steppe of far eastern Europe. This is a huge change from what was understood fifteen years ago. As the Basques speak a clearly non-Indo-European language, many scholars hypothesized that they were remnants of hunter-gatherer peoples, who had been resident in the Iberian peninsula since the Pleistocene.
But the reality is that the origin of the Basques is likely in the arrival of Near Eastern farmers. The Basques share a strong genetic affinity with the peoples of Sardinia, who are the closest proxies in modern European populations for this group. Importantly, the Basque difference from Sardinians is their much greater proportion of Central European/steppe-like ancestry. How did they get this ancestry?
One of the major results of this paper is that a particular branch of R1b came to dominate Spain around 4,000 years ago. Before this period the dominant Y chromosomal lineages in the Iberian peninsula were those associated with the farmer populations. The frequency of R1b is above 80% in Basque males. This is one reason that earlier scholarship assumed that R1b was associated with European hunter-gatherers (the Basque being the descendants of those people). Today, we know that both branches of R1 seem to have expanded ~4,000 years ago and that the most common lineages in western and southern Eurasia seem to go back to the steppe peoples.